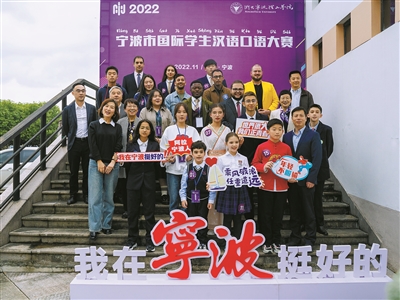 Students pose for a group photo during the competition. [Photo by Jiang Jihang]

  By Jin Lu, Cheng Meng, He Rui
  On the afternoon of November 4, the final of the 2022 Oral Chinese Language Competition for International Students in Ningbo came to a successful conclusion at NingboTech University.
  Twenty contestants from fifteen countries, including the US, Russia, Spain, and Iran, showed their excellent Chinese language skills such as tongue twister, Chinese rapping, and poetry reading.
  From primary school to postgraduate, all the finalists have shared their amazing stories and inextricable experiences with Ningbo. After tight competition, the university group and the primary/secondary school group each yielded three Third Prizes, two Second Prizes and one First Prize.
  Sharing Stories with Ningbo
  Maxwell Marcus, a contestant from New Zealand, recited a poet related to Ningbo, which won bursts of applause.
  When the judges asked him what attractions in Ningbo he likes most, Maxwell said: "I like Siming Mountain the most. Siming Mountain is very beautiful when it snows in winter. You can build snowmen, play snowball fights, and do a lot of happy things."
  As a first-year student at Yangming Middle School in Yuyao, Maxwell came to Ningbo from New Zealand six years ago. "The teacher encouraged me to participate in the competition, she said that it would be a good opportunity to get in touch with the outside world and meet different international friends." Maxwell said that he was the only foreigner in the class and living in Ningbo makes him feel warm.
  "I think I am very lucky because I live in a peaceful country, where people are happy and with advanced technology. I am glad that my parents brought me to China, and I am even more glad that I am here, in Ningbo." On the scene, Nazhin Khosravinia, an Iran girl, did not only play a Chinese folk song "Jasmine Flower" on a bamboo flute, but also spoke fluent Chinese. She enthusiastically expressed her love for the city of Ningbo. The 16-year-old Nazhin was born in Ningbo, grew up in Ningbo, and is currently studying at Access International Academy. Everyday, she takes the subway to go to school. "I not only enjoy the changing seasons of the scenery along the road, but I am also fortunate to see the development of the city," said Nazhin.
  Competition Propels Cultural Exchange
  The competition is sponsored by the Ningbo Education Bureau and jointly organized by Ningbo Education International Exchange Association, Ningbo People's Association for Friendship with Foreign Countries, NingboTech University, and Georgia School.
  As a renowned international port city, education in Ningbo is innately oriented towards globalization, widely noted for its "open door" heritage. With an increasing number of foreign nationals who have chosen to settle down in the city, Ningbo's international influence and recognition have noticeably improved over the recent years.
  "The Chinese language is the essence of China's long history and culture, and it also has the largest number of native speakers in the world," comments Zhang Xianmin, Vice President for International Affairs, NingboTech University. He extends his sincere expectations that all the international students pay attention to the aesthetics of Chinese characters, the elegance of its calligraphy, and the melody of its rhythms, so that they can savor the profound historical and cultural heritage of the Chinese language. In addition, it is also helpful for them to develop an in-depth understanding of China's achievements in recent two decades and the ever-growing important role it has played in the international community. International students are meant to be goodwill ambassadors to promote people-to-people ties between China and their home countries.
  "Compared with previous years, what strikes me most is that international students nowadays are not just university ones," concludes He Qian, Deputy Director, Ningbo Education Bureau, "but there are more and more younger ones who come to Ningbo at a very young age and spend the better part of their childhood here. Eventually, they are nothing less than 'Ningbo natives'." She speaks highly of such activities engaging international students, which will greatly promote the city image of Ningbo as an international city and in return, will attract more foreigners to study, live, work and invest in Ningbo. It is never too much to emphasize the importance of internationalization of education.