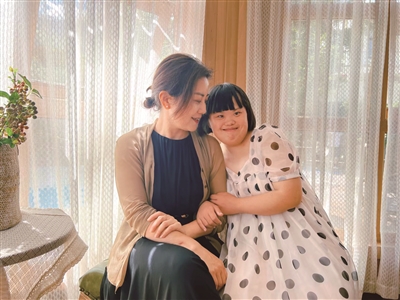 Photo by Nana
  Among a short video series of Nana's Country Life, one episode which shows how to cook handmade maltose went viral on social media. Therein Nana and her Down syndrome daughter Yuanyuan demonstrated the process of making maltose in a rural house: planting wheat, fermenting glutinous rice with malt, and finally boiling down the maltose. Many funny life details were added in the video, reminding the audiences of their childhood.
  "娜娜的乡村生活"系列视频中,一则手工制作麦芽糖的视频,在社交平台上走红。视频中的主角,是娜娜以及患有唐氏综合征的女儿圆圆,讲述的是娜娜在乡村老屋制作麦芽糖的过程——从种麦子到糯米麦芽发酵,再到麦芽糖熬制,中间还穿插了不少逗趣的生活细节,唤起了网友们的童年回忆。
  So far, Nana's Country Life series has released a total of 28 videos, most of which are about preparing local delicacies.
  到目前为止,"娜娜的乡村生活"系列共发布了28条不同内容的视频,题材多为本地乡村的美食制作。
  "My niece brought up the idea of making videos. We just meant to share the wonderful country life in Ningbo with audiences." Nana told Ningbo Evening News, "Yuanyuan was diagnosed with Down syndrome shortly after birth. I was really upset at first. But since she has come to us, we hope she could lead a happy life. Her grandmother and I taught her to take care of herself and sent her to special school for skill learning. She makes constant progress there. She is excellent in my eyes." Nana further mentioned that everyone in her family treats Yuanyuan as a normal individual and takes her everywhere they go. By doing so, Yuanyuan is always confident and will never shy away when facing strangers. "The more support we provide, the more confident she will become."
  "拍摄视频的主意,最早是我外甥女提出的。我们的想法其实很简单,就是想把宁波乡村的美好生活传递给大家。"娜娜告诉记者,"圆圆出生后,被查出患有唐氏综合征。最初的那段时间,我确实很痛苦。但孩子既然来到我身边,我就希望她能快乐生活。为此,我和孩子奶奶教她学会生活自理,送她去培智学校学习技能,她也一天天地在不断进步。在我眼里,她是个非常优秀的好孩子。"娜娜说,她们家以平和的心态把圆圆当正常孩子看待,去哪里都带着她,所以圆圆一直以来都很自信,面对陌生人也不会害羞,"你给孩子越多的阳光,孩子就会变得越阳光!"
  Nana's Country Life has attracted over 300,000 fans on various social media platforms within three months since the release of its first video on April 23. The biggest share of the credit should, however, go to Ying Shanrong, Nana's niece.
  从4月23日发布第一个视频到现在,短短2个多月时间,"娜娜的乡村生活"在各社交平台共收获了30多万粉丝。这些视频背后的最大"功臣",是娜娜的外甥女应姗蓉。
  "Scenes and stories of short films are based mainly on the experiences of aunt Nana and Yuanyuan except for few details designed to enhance the storytelling. They present their real daily life. Other persons showing up in videos are also our family members or friends." Shanrong said. For her, every video she shoots is an intimate gathering of family members and friends.
  "视频拍摄时,除了有个别为传播效果而设计的细节外,娜娜姨妈和圆圆展现的就是平时最自然的生活状态,很多情节其实是她们的真实经历。视频中出现的其他人物,也都是家人和朋友。"应姗蓉说,每一次的视频拍摄,都是一次亲友聚会,大家的关系因此变得更加密切。
  "Yuanyuan is an optimistic and lovely girl. In her eyes, the world is always warm and kind." Shanrong recalled that aunt Nana and Yuanyuan once went out and received unfriendly stares, which provoked Nana's anger. Yuanyuan smiled instead and consoled Nana, "Mom, they keep on looking at me because my new dress is beautiful, right?"
  "圆圆是一个乐观开朗而又非常有爱的女孩。在她眼中,这个世界永远充满了温暖和善意。"应姗蓉讲了一个细节:娜娜姨妈和圆圆有次出门,有人用异样的眼光看她们,姨妈被看得快要生气了,圆圆却笑得很开心,"妈妈,他们一直看我,肯定是觉得我的新裙子很好看吧。"
  This anecdote was later integrated into the short film, ending up with Nana's reflection: "I once thought that it may take a lifetime to cure my daughter. To my amazement, it is every smile of hers that heals me at the end."
  最后,这个情节被用到了视频里,并配上了娜娜的话:本以为,我需要用一生去治愈我的女儿,没想到最后,是她用每一个笑容在治愈我。
  "Thanks to the circulation of our videos, we received blessings and support from netizens. Yuanyuan was described as an angel and a ray of sunshine; some netizens were reminded of their family members, while others were encouraged." Nana shared with us a touching direct message received from social media:
  "因为视频的传播,我们收到了很多网友的祝福,以及对圆圆的支持。有网友夸圆圆是小天使、小太阳,有网友想到了自己的家人,还有网友因此受到鼓励。"娜娜说,其中有一条私信,令她感动不已——
  Aunt, so envious about how Yuanyuan relies on you. I'm disabled, too. But my mom died in an accident and she used to love me as much as you did with Yuanyuan. You are as strong and kind as my mom. … No matter what occurs, don't forget to smile. Nothing can stop us from becoming our own angels. …
  阿姨,看着圆圆依赖你,我心里有说不出的羡慕。我和圆圆一样,是残疾人。妈妈因为意外去世,但她很疼爱我,就像你对圆圆一样。你和我妈妈一样,是个坚强且善良的人……无论生活带给我们什么,都不要忘记微笑,任何人都不能阻碍我们成为自己的太阳……
  Nana will continue to shoot videos about their country life and share the happiness and optimism of Yuanyuan, transferring her warmth and energy through the screen. "In recent days, we received numerous messages from families with Down syndrome children, asking for support or parenting experience. We have therefore established an online group for Down children and their families in the hope of providing a communication platform for mutual help." Nana introduced.
  娜娜说,她们接下来也会继续拍摄乡村生活的视频,将圆圆的快乐阳光展现给大家,将更多温暖的力量传递出去,"这几天,我们后台收到了很多唐宝(注:对唐氏儿的昵称)家庭的私信,寻求支持或是询问育儿经验等。为此,我们刚建了一个天使宝宝交流群,希望能给唐宝家长们提供一个交流和互助平台。"
  Reporter: Wang Siqin
  Translator: Mei Jie
  Proofreaders: Lü Chang, Huang Dawang, Jason Mowbray