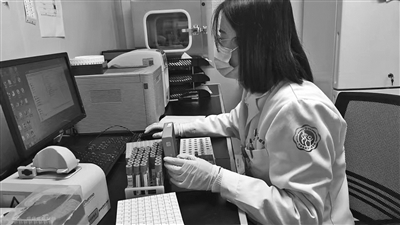 Recently, Ms. Wang has been preparing for pregnancy after two years of marriage. Together with her husband, she went to Zhenhai Maternal and Child Health Care Hospital in Ningbo for preconception counselling. Onsite blood sampling was undertaken as the doctor advised, and their blood sampling was then sent for genetic disease carrier screening through genetic testing at the Central Laboratory of Birth Defects Prevention and Control in Ningbo Women & Children's Hospital. The lab has signed agreements with all county/district-level maternity and childcare hospitals in Ningbo, enabling genetic disease carrier screening to be accessible for all pregnant women.
  结婚两年的王女士准备怀宝宝了,她和丈夫到就近的镇海区妇保院,就备孕事项进行咨询后,接受医生的建议当场采血,血样随后被送往位于宁波市妇女儿童医院的宁波市出生缺陷综合防治中心,通过基因检测进行遗传性疾病的基因筛查。目前,该中心同宁波基层妇保院都签订了出生缺陷项目合作协议,让所有孕产妇在基层就能享受到很多疑难杂症的基因组检测服务。
  During her preconception, Ms. Wang and her husband had taken a variety of gene tests related to genetic diseases. According to the test reports revealed weeks later, they were both found to be thalassemia gene carriers and hence sought assistance from Ningbo Central Laboratory of Birth Defects Prevention and Control.
  王女士在备孕阶段跟丈夫一起做了跟遗传病相关的基因检测。几个星期后,检测报告显示:夫妻俩都是地中海贫血基因的携带者。经医生推荐,他们找到市出生缺陷综合防治中心咨询。
  Thalassemia is an autosomal recessive genetic disease. A quarter of children born to thalassemia carrying parents will be healthy, half of them have thalassemia minor (just like their parents), and another quarter develop thalassemia major. Symptoms range from fatigue, growth issues, increased rate of infection and can result in the patient requiring blood transfusions.
  地中海贫血是一种常染色体隐性遗传性疾病,假如父母双方均为同一型别的地贫基因携带者,怀孕以后他们所孕育的胎儿中有1/4是正常胎儿,1/2是轻型地贫(同父母一样),1/4是中重型地贫患者。
  According to their test results, Li Haibo, the lab's director, offered them two solutions: one is to receive third-generation IVF to ensure a healthy baby, and the other is to get pregnant naturally but constantly monitor the fetus through prenatal diagnosis. If the fetus is diagnosed as having thalassemia intermedia or thalassemia major, the pregnancy should be terminated.
  根据两人的检测结果,该中心李海波主任给他们提供了两个方案:一种方法是直接做三代试管婴儿,可一次性出生健康的宝宝;或者正常地自然妊娠,但要通过产前诊断加强监测,如果确认胎儿为中重型地中海贫血,就应及时阻断。
  The couple went with the second option. Mrs. Wang is pregnant now; and fortunately, according to constant prenatal monitoring, the fetus has proved to be among the 50% of fetuses with thalassemia minor (the same as the parents).
  夫妻俩最终采纳了第二个方案。目前王女士已经如愿怀上了宝宝,而且幸运的是,经过产前诊断的监测,胎儿属于1/2的那种类型,也就是跟父母一样的地贫基因携带者。
  Testing positive is actually quite normal, as Director Li explained, because about 70% of people carry various pathogenic genes, usually without any symptoms or signs. However, if both members of a couple carry with the same type of disease-causing gene, their child is much more likely to bear the genetic disease. It can be seen that genetic disease carrier screening is of great necessity.
  李主任解释说,遗传病基因的携带其实非常普遍,大约70%的人都携带有各种不同的致病基因,只是不会发病,也几乎没有任何表现。但是,如果两名同种致病基因的携带者结婚生子,那生出疾病患儿的几率就大大增加,由此可见遗传性疾病基因筛查的必要性。
  In fact, the number of terminated pregnancies due to lab-confirmed birth defects is substantial across Ningbo. In 2019, 2,774 pregnant women received birth defect prevention test, and 313 pregnancies diagnosed as abnormal had been terminated. The corresponding figures were 2,232 and 317 in 2020, 1,990 and 300 in 2021 respectively.
  事实上,市出生缺陷综合防治中心每年产前诊断出的异常,继而被阻断的胎儿数也不可小视。2019年,产前诊断孕妇2774人,筛出异常后选择阻断的有313人;2020年,这两个数据分别为2232和317人;2021年,这两个数据为1990和300。
  The Central Laboratory of Birth Defects Prevention and Control was set up in Ningbo in 2018 to reduce birth defects. Up to now, a comprehensive technical system has been established, including experiment platforms of prenatal screening during pregnancy, cytogenetic diagnosis, tandem mass spectrometry, and other experiment platforms of neonatal genetic metabolic diseases. It also includes high-throughput sequencing and gene chip platforms, covering the whole cycle of intervention measures for the prevention and treatment of birth defects.
  据介绍,正是基于减少缺陷儿出生的宗旨,2018年,宁波市成立了出生缺陷综合防治中心,到现在已形成包括产前筛查实验平台、细胞遗传学诊断实验平台、串联质谱等新生儿遗传代谢病实验平台、高通量测序平台、基因芯片平台等在内的全方位技术体系。
  Furthermore, the central lab leverages the service and quality control networks in relation to the healthcare of local women and children, signing agreements with all county/district-level maternity and childcare hospitals on birth defect prevention. Such wide-range cooperation also includes assistance and guidance on personnel training, technical guidance, information management, and quality control. The full coverage of genetic disorder screening will greatly improve regional comprehensive prevention and control of birth defects in Ningbo.
  不仅如此,中心还利用宁波特色的妇幼保健服务与质控网络,跟基层妇幼保健院全面签订出生缺陷项目合作协议,在基层的人员培训、技术指导、信息管理和质量控制等方面给予协助指导,目前已覆盖了所有的基层妇幼保健院。基因检测的全覆盖,将极大地提高区域出生缺陷的综合防治能力。
  Reporter: Cheng Xin
  Correspondent: Ma Dieyi
  Translators: Mei Jie, Lü Chang
  Proofreaders: Huang Dawang, Paul Maybrow